Because "The Matrix" has been the best ScFi movie of the 90s
Because "TheMatrix" was filmed on location in Sydney úp; on soundstages and, for two months, on Sydney's streets and rooftops and in warehouses.
Next : Matrix : Revolutions : November 5th, 2003
(wide; including a same-day release in IMAX theaters)
Terminator, The (1984)
This low-budget masterpiece was the breakthrough film for director Cameron, who weds special effects, thrills, and understated romance to create one of the finest action films of the 1980s,
Terminator 2: Judgment Day (1991)
action-packed blockbuster with some of the most amazing stunts ever filmed and ground-breaking, Academy Award-winning special effects.
Terminator 3: Rise of the Machines (2003)
Terminator 4 : Summer 2005 ... 2008 ?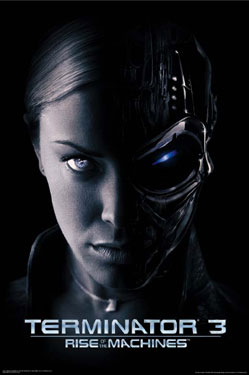 The League of Extraordinary Gentlemen
North American English or Non North American English ?
AUSTRALIA 21/08/2003
Full Coverage: Superhero Hype!
Release Date: July 11, 2003
Studio: 20th Century Fox
Director: Stephen Norrington
Screenwriter: James Robinson
Starring: Sean Connery, Shane West, Stuart Townsend, Jason Flemyng, Richard Roxburgh, Naseeruddin Shah, Tony Curran, Max Ryan, Tom Goodman-Hill, David Hemmings , Peta Wilson
Official Website: LXGmovie.com