eScience Lectures Notes : Lecture Introduction
---
Slide 1 : 1/22 : Lecture Introduction (index.en.html)
--- or ---
Tools, Design and Management of
Maturing Hypermedia
then 'n'ext or 'b'ack
---
Slide 2 : ToC : Lecture Introduction (tableOfContent.en.html)
Table of Contents (22 slides) for the presentation :
Lecture Introduction
---
Slide 3 : 3/22 : In this session : COMP1710 - About the Course (intro.en.html)
In this session : COMP1710 - About the Course
Lecturer

Lecture Contents

Lecture Organisation

Students

What you will do

Assessment

Books, Links

Labs

Readings
---
Slide 4 : 4/22 : Lecturer and the team (lecturer.en.html)
Diploma Background :

Physicist Engineer

Masters in Computer Graphics (DEA)

A mix of Physics, Computer Graphics, Internet ... and Maths !

Work Background : Internet site manager

You will find on my CV that I have learnt Basic, Fortran, Pascal, Prolog, Java, Shell... that is right, but what I have been really using during the last years was Perl !

MediaPort.net : French Culture WebHosting during the prehistory of internet in France

http://www.ina.fr French Audiovisual (Broadcasting) Institute

http://www.vrarchitect.net Open source tools, links, Panberra : Panorama in Canberra
Other members of the DCS/ANU Team
Tutors :

Any administrative question : Pamela Phillips
Student-related enquiries : Associate Dean appointments, course, timetable queries ...
6125 4043 / CSIT Building 108, Level 3 reception
---
Slide 5 : 5/22 : Lecture Contents (lecture.en.html)
Course Contents
What is called New Media with a focus on the Web. A balance of :
This course focuses on multimedia and its delivery on the world wide web. It introduces multimedia as a combination of text, graphics, video, animation and sound for the purposes of information access, storage and dissemination. Topics such as the nature of multimedia and types of multimedia objects, components of a multimedia system, Web authoring, multimedia delivery tools, multimedia applications and societal implications of multimedia. Students will have the opportunity to create multimedia applications using HTML, JavaScript, animation, sound, video and 3D.
General knowledge about New Media (eg from the main textbook)
Media, nature and digital aspect (Text, Image, Sound, Video etc)

Navigation

Management

Design
Some practical knowledge, mainly associated with the Web
HTML, CSS, DOM etc

Media Formats : Gif, Jpeg, PNG, QuickTime, Real, QTVR, VRML etc

Initiation to scripting through JavaScript (the second text book)
Exploration of some tools and CMS
Some small exposure to the other side of the web
XML, XSLT, Apache, Perl, MySQL etc
---
Slide 6 : 6/22 : What the course is not about: (notAbout.en.html)
What the course is not about:
Not about Learning a particular HTML editor (Dreamweaver, Golive etc ... )
Instead : a simple text editor
Dreamweaver, only if and after you demonstrated a good understanding of HTML
Some specialised tools, but just as examples (Quicktime vs. Real, RealViz Stitcher)
Not about learning to program at an advanced level
Instead : Cut and Paste and modification/ adaptation of Javascript code
To keep going in that direction ?
---
Slide 7 : 7/22 : Life After COMP1710 (nextStep.en.html)
Life After COMP1710
COMP2720 Automating Tools for New Media (6 units)
Bachelor of Arts in New Media
Python based
This course will introduce script-level programming in the context of New Media. It is offered in the context of the Bachelor of New Media
COMP2750 - Java Programming for New Media: S1/2006
Will start easily with Processing.org
Other options :
Art students, especially those coming from ACAT, could be interested in the following courses from the Department of Computer Science, eScience group. Note that those 2 courses have to be taken in the given order. Note eventually the Assumed Knowledge in Maths
Another suitable option could be to begin with course
---
Slide 8 : 8/22 : Lecture organisation (organisation.en.html)
Lecture Organisation : when & where
2 hours of lectures per weeks for 12 weeks starting in week 1
Every Tuesday from 3 pm to 5 pm.
1 hour of discussion / demo class some weeks
Some Mondays from 3 pm to 4 pm.
2 hours lab per week for 9 weeks starting in week 2
Wednesday 12:00 14:00 Peter Karmel 2.29 (Lab 2)
Thursday 9:00 11:00 Copland G27
Thursday 11:00 13:00 Copland G27
Thursday 14:00 16:00 Peter Karmel 2.28 (Lab 1)
Friday 9:00 11:00 BPB Annex NITA Lab
Friday at 11:00 - 13:00 in Karmel 1 (2.28)
Places to meet
Lectures (every Tuesday) will take place in the CHEM T1 (Building 34)
Discussion meetings (some Mondays) PHYS T (DNF Dunbar Physics Lecture Theatre
Free access Laboratories : any DOI lab
---
Slide 9 : 9/22 : Where : Places to meet (where.en.html)
Where : Places to meet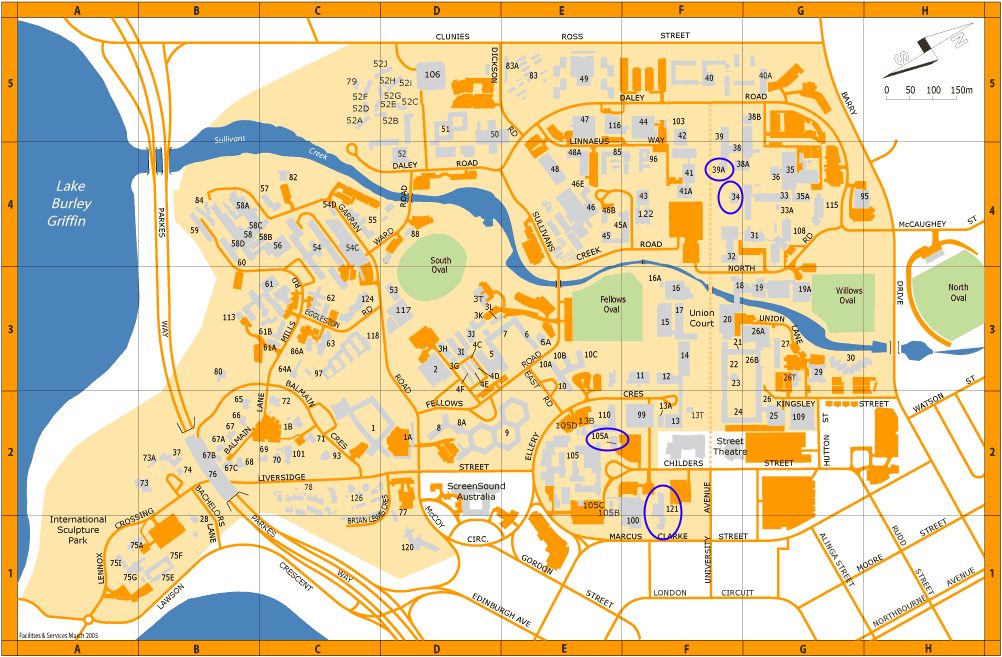 ---
Slide 10 : 10/22 : Students Background (background.en.html)
Students Background
From Prerequisites to Assumed Knowledge
the meaning remains the same : what you should know if you want to understand important parts of the course, and have a chance to get a high mark in the exam and in the assignments.
WHAT DO YOU NEED TO KNOW BEFORE YOU TAKE THIS COURSE?
You have already surfed the web
You have already used a text editor
N.B. : Word is not a text editor, it is a word processor
Difference : mainly the formatting of the text, proprietary format
Text Editors
Word Processors

HyperEdit
SubEthaEdit
BBEdit
BBEdit Lite
Jedit
SimpleText
TextEdit
NotePad
vi
emacs

AppleWorks
ClarisWorks
OpenOffice
Microsoft Word
Nisus Writer
WordPerfect
Mellel
---
Slide 11 : 11/22 : Students (students.en.html)
Students
Background : Art, Engineering, Mathematics, Geology etc ...
Main way to contact you : uXXXXXXX@anu.edu.au
Note to InfTech students :
COMP2410/COMP6340 Networked Information Systems 2006 (Instead of COMP3340)
COMP1710 will not replace COMP1100 nor COMP2410
Part of the core of the Bachelor of Arts in New Media and part of the IT for New Media major (can be taken by InfTech students as an out of Faculty major)
This course has 82 enrolled students (20/02/06)
Withdraw time : 31 March 2006.
But don't leave it to the last minute
A student may withdraw without incurring financial penalties up to and including the census date which is 31 March 2006.
See The Student Enrolment and Administrative Procedures (SEAP) for more details on that.
---
Slide 12 : 12/22 : Assessment (evaluation.en.html)
Assessment : 25 + 35 + 40
Assessment is based on 9 laboratories, one assignment and one theoretical exam.
9 Marked Labs (first 1 mark + 3 marks per lab) : 25 marks
Attendance is not required, submission is !
1 Group (of 2) project : Web site to develop : 35 marks
1 Theoretical exam in June : 40 marks
Can bring 1 sheet A4
Note about dictionaries : go and check with the Examinations office early enough
The Examinations office now have a form which students are required to complete and obtain the necessary permission to use a dictionary in an examination. This replaces the old method of examiners having to print individual letters for students.
Forms are available from the front office counter. Students are required to obtain signature(s) from the relevant examiner(s) then take the completed form together with their dictionary to the Examinations Office. The dictionary is left at the examinations office and returned to the student at the examination. Students need to take their dictionary and approval to the examinations office 24 hrs prior to the scheduled examination.
---
Slide 13 : 13/22 : Final Mark : Not just the sum (finalMark.en.html)
Assessment : 25 + 35 + 40
Final Mark : the sum of marks, but need to pass both practical and exam components
Need to submit everything (or else DA or NCN)
Note about Mentoring : Your mentor is there to help you, and to provide some favourable weight to your excuses
In case your cat got crushed over by a car for the 4th time this semester :-)
To Pass, you have the get a minimum mark in each part
Labs + Project >= 30

Exam >= 20

Sum >= 50

There may be some adjustment/scaling of the final mark.
Supplementary Exams
The student must have obtained a final mark in the range [45,50).
Access to your marks
---
Slide 14 : 14/22 : Labs (exercises.en.html)
Laboratories (25)
Not optional :
Building blocks to do the Assignment.
Compulsory (marked)
You need not attend the lab but you have to submit your work at the latest ...
Submission deadline : 23:55 on the Sunday of the week the lab was set
Late submission penalty : mark = 0
Submitted by mail (first labs) or by scp (later ones)
Individual work
Be Careful about plagiarism ... it is bad, and not appreciated.
Difference between "asking how to do something" and "asking to do something" or worst ... "taking something"
Free Access to the lab, please fill in the yellow form
---
Slide 15 : 15/22 : Student Project (projet.en.html)
The practical assignment (35)
Group of Two
With short individual reports on the work done, and possible interview in case of doubt
A Group of two is not half of a group of four ... (Be careful to plagiarism again)
Or individual if explicitly requested
A web site with:
A hierarchy of pages with relevant information

A navigation tool

A style defined by a CSS

Some Javascript

Some Audio, Video, Images, QTVR and VRML

... Other stuff you will learn during the labs

Delivered on a burnt CD-Rom
The subject : One ANU Building per group OR
an "interesting and very specific subject of your choice"
---
Slide 16 : 16/22 : Readings (reading.en.html)
Readings
Not optional
Complement to the online lecture notes

May be source of questions for the final exam

Based on the Textbooks or some additional papers provided during the lectures
This week's reading :
Surf the Web

Chapter 1 (p6-30) of "Unusually useful web book"
---
Slide 17 : 17/22 : Books (books.en.html)
Books
2 Official lecture textbooks
The Unusually Useful Web Book

Everything we've learned about why sites succeed!
by June Cohen / New Riders
The Web Wizard's Guide to Javascript

by Steven G. Estrella / Addison-Welsey
Other books
Design for New Media

Interaction Design for Multimedia and the Web
by Lon Barfield / Pearson - Addison Welsey

Any other from the Addison-Welsey's Web Wizard series
See "Unusually ..." online ...
---
Slide 18 : 18/22 : Workload (workload.en.html)
Workload
University policy about student workload :
10-12 hours a week
lecture (3) + lab (1+2+1) + read (1) + assignments (2)
Memorization technique
After the lecture :
+ one day (1)

+ one week (30min)

+ one month (30min)

+ before the exam
---
Slide 19 : 19/22 : Links (links.en.html)
Links
Some links for each part of the lectures
Contextual links
Main links

Slashdot http://slashdot.org
'News for nerds, stuff that matters.'
Useit www.useit.com
Usability guidelines.
W3C - World Wide Web Consortium www.w3.org
Body overseeing the development of web standards, protocols and guidelines for best practice.
Webmonkey http://hotwired.lycos.com/webmonkey
Web developers' resource.
---
Slide 20 : 20/22 : Web issues (web.en.html)
Web issues
Handouts
shortcut : escience/comp1710 or escience/nm
All lecture notes will be available on the course web site.
The final handouts should be available, at the very latest, the Friday following the lecture.
slightly irrelevant remarks : what is happening with that shortcut ?
1) http:// 2) escience 3) .anu.edu.au 4) :80 5) cg 6) /index.html 7) : Redirection from an HTML file
and as a redirection through the webct web site
Some tips on how to use the web site
Table of contents, print link, link link, navigation
CSS are the best way to change the look of a web page without touching its content. It helps to deal with Accessibility issues. The idea is that text content is not corrupted by visual formatting.
Be sure that your web browser accept CCS. Netscape (> 4) and IE (>= 5) should be OK. Go to the W3C web site to check the list.
I will be using CSS in order to use the same document for slides, handouts and even my lecture notes. The differences will be done only by the application of different Style Sheets on the same web pages.
Additional Formats
Both of the following formats are based on XML and will perhaps be used in the handouts.
They are both new on the web in the sense that they are not yet set by default in main browser installations. Nevertheless, good Plug-Ins already exist to visualise those formats into web pages. To learn more about web standards and XML stuff, check the W3C web site : http://www.w3C.org/ .
Even if we don't eventually use these additional format s in the present lecture notes, it is interesting to have a look at them
SVG is a challenger to Flash and Shockwave, the Macromedia format. Although SVG will
add many capabilities that are not directly available in Flash, by far the biggest difference between Flash and SVG is that the former is proprietary and the latter is public.
has released a good plug-in for SVG.
MathML is an XML application for describing mathematical notation and capturing both its structure and content. The goal of MathML is to enable mathematics to be served, received, and processed on the Web, just as HTML has enabled this functionality for text.
IBM is providing a plug-in for MathML. Not will only this plug-in allow you to visualise MathML, but techexplorer enables the display of TeX, LaTeX and MathML documents and the publishing of interactive scientific material on the Web. Version 3.1 includes full support for MathML 2.0
---
Slide 21 : 21/22 : Questions, Feedback (availabilty.en.html)
Questions, Feedback, Availability
2 hours a week
During the lecture
At the end of the lecture
For the tricky ones
Then I would be able to postpone the answer to the next discussion class or next lecture :-)
This year, Not really available after the main lecture
I am afraid I have to catch the only bus that will bring me home after the Tuesday lecture ...
Best time is during or after the discussion meeting on a Monday
For individual question
At any time, by mail : pascal.vuylsteker@anu.edu.au but I may wait until the next lecture or discussion meeting
By appointment
Whenever you want But I may then not be in my office or available

Questions ??
---
Slide 22 : ToC : Lecture Introduction (tableOfContent.en.html)
Table of Contents (22 slides) for the presentation :
Lecture Introduction